Just how good is Tom Brady and the New England Patriots? At 7-0 to start the 2015 season, we'd say pretty darn good. But to put it another way, Daniel Tosh, a self-proclaimed Miami Dolphins fan, bet the farm on the Patriots to cover a -3.5 halftime points spread.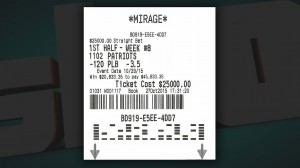 Daniel Tosh, a comedian best known for hosting Comedy Central's Tosh.0, raised $25,000 auctioning many of his TV show props. The proceeds were to help fellow stand-up comedian Andy Ritchie who is currently fighting a brain Tumer. But instead of just donating the $25k, Tosh went to Vegas where he placed the entire amount on the New England Patriots to lead at the half by 3.5 points. The Patriots did not disappoint.
The Patriots scored their first touchdown on a 47 yard pass play from Brady to Rob Gronkowski. They added a safety to the score at the start of the 2nd, a 52 yard field goal by Stephen Gostkowski and ended the quarter with a 16 yard pass play to Dion Lewis for 6. Meanwhile, the Pats defense shut out the Dolphins.
The 19-0 score at the half was plenty for Tosh to cash in on his bet and raise the total for Ritchie to $45,833.35. Perhaps he should have bet it all on a Pats perfect season.