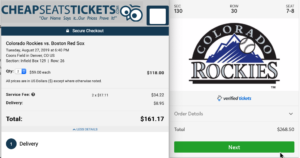 The question we hear the most from people looking for tickets is often "Where do I start?" We tend to think it's less about where you start and more about having a comprehensive plan in mind. When it comes to the majority of events, the place to start is the primary market and that usually means Ticketmaster. But face value isn't always the biggest value which is why we suggest covering several sites in tour search.
In today's example, we're looking for interleave MLB tickets between the Red Sox and the Rockies in Colorado. Coors Field is a great venue with a super strong fan base but it's big which means there are a lot of seats. And empty seats on the primary market are generally only sold at face value. Behind the plate will cost you around $125 per ticket with exception.
Switch over to the secondary market and you will find ticket prices invariably higher than face but often lower. IN today's example, two seats on Ticketmaster will run you $268.50 for the pair all in about 30 rows behind home plate. We have similar tickets but we'll put you in Row 26 for $161.17 for the pair.
Why? Well there's a lot of reasons. Broker owned tickets means they may have been obtained for less than face to begin with. But broker owned can also mean full control over the price.
We also recommend looking at non-broker sites like Stubhub. Stubhub has some broker owned tickets but a lot are owned by individuals. And when the event date is close, people generally will take anything and can dramatically lower the price. In our case, we found similar tickets in the $160 range.
So be sure to check at least three diferrent sites. We recommend the venue, a secondary site like ours and Stubhub. Be diligent and we're sure you'll find your perfect ticket.