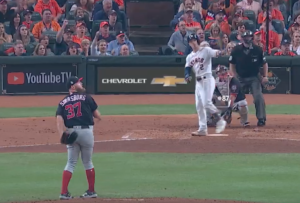 Game 2 of the 2019 World Series didn't exactly start as we would have expected with two All-Star pitchers on the mound. Justin Verlander gave up a pair of runs in the top fo the first and the Astros tied it up with an Alex Bregman homer off Stephen Strausberg in the bottom. By our count, it took Bregman just under 25 seconds to round the bases. Besides the effect the showboating stunt had on the Nationals, did Bregman's antics piss off the baseball gods resulting in two 7th inning errors (yes, we thought the one ruled a hit was actually an error)?
Talk to fans from every team and someone will give you a karma related story. And you don't have to go any further than the Nationals. Bryce Harper left at the end of 2018 to join a World Series caliber team. Now he's watching his former teammates try to sweep their opponents.
The Nationals host a Celebrity Baseball Camp and sources indicate every player that has participated in the event has had a banner game immediately following. Trea Turner attended and went 5 for 5 that afternoon.
We think humility is a necessary part of the game. There's plenty of time for celebrating – after the game/series is over! And we think Bregman may have put the celebration on display 8 innings to soon.