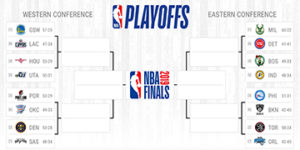 The Houston Rockets just needed to win their final game on Tuesday to secure the #2 spot in the west. Unfortunately for the Rockets, OKC had other plans and handed them their 29th loss of the season. But no worries, a Denver loss would still secure the 2 seed; a Portland loss would deliver them the #3 seed but neither of those scenarios happened either. Denver beat the Timberwolves and Portland played 5 bench players and overcame a 23 point deficit to beat the Kings
So James Harden and company will have to face the Utah Jazz in round one and assuming everything goes chalk, they will play the Golden State Warriors in the second round. To get past Utah, the Rockets will have to face a formidable defense and also play at least one game at altitude.
Let's be clear, this isn't exactly the classic Rockets-Jazz matchup between Malone and Olajuwon but it should be interesting. The Jazz bring a defensive-minded focus to the court and Harden is, well, pretty much unstoppable. And whichever team wins, it's gonna be a tough road through Oakland and the Warriors. Should be fun!